COMMUNITY OUTREACH
MTB has long recognized the importance of giving back to the communities in which we live and work. Not only does this enhance our standing in local communities and help us to do our jobs better, but it is simply the right thing to do. The company and its employees regularly make financial donations to charitable organizations such as:
Haven's Hope
Roundup Fellowship
DAV
Colfax Community Network
Denver Rescue Mission
Denver Voice
Diana Price Fish Foundation
Susan G Komen
Autism Society of Colorado
Hospice of the Red River Valley
Inter-Mountain Humane Society
American Red Cross, including Hurricane Katrina and Indonesia Tsunami relief
Multiple Sclerosis Society
Leukemia and Lymphoma Society
Salvation Army
Muscular Dystrophy Association
Humane Society of the United States Disaster Relief Fund
Youth With A Mission
Susan G. Koman Breast Cancer Foundation
Global Connection International
Food bank of the Rockies
Technical Education Assistance for community ladies near a project in Guatemala
Mining Museum - Wallace, Idaho
MTB purchased and distributed prenatal medical supplies to women in Cajamarca, Peru, to help offset the high infant mortality rate in the region. The distribution was made through a local organization called the Ladies Association of Yanacocha (ADAMINYA). MTB's Manager of Project Operations, Veronica Rodriguez, is shown here handing out supplies and posing with some of the ladies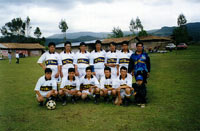 MTB helped a local youth football team look sharp with uniform jerseys. The team is from the village of Ojos in the Cajamarca region of Peru, near the site of the Sipan Project, which MTB was managing at the time.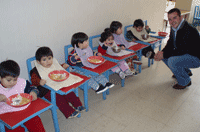 MTB purchased and donated necessities to the orphanage Puericultorio Perez Aranibar (above left) and to the Hospital Neoplasicas (above right), both located in Lima, Peru.