DUE DILIGENCE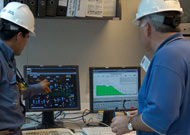 Lending money for construction projects always involves risk; your goal as an investor is to optimize that investment and minimize risk. To that end, you need to analyze all details of the project closely to ensure it is viable and to determine the true amount necessary to finance the construction. Has the project been properly planned, scoped, scheduled, and budgeted? Is there a need for the facility, and will it represent a good long-term investment? What is the developer's history, and does that developer have an experienced management team on the project? Do you have the necessary technical expertise to properly evaluate and oversee the project? MTB can help you answer these questions and identify and minimize risks so that you can make the best lending decisions possible.
Project Viability Review
A project without financing isn't a project. The corollary to this is: a bad project shouldn't get financed. If you are an owner or developer, MTB's project development services can put you in the best possible position to get financed by providing all the things your banker is looking for: a solid project plan, a good budget, a reasonable schedule, and the right team to put it all together. If you are a banker and need help sorting out whether a loan applicant has what it takes to be a good credit risk, our organized approach to the due diligence process can reduce your risk of overexposure.
Constructability Review
Multidisciplinary constructability reviews early in a project during the design process pay dividends as team members come together to review, refine, and understand the project scope of work. Refinements yield improvements in materials and methods. The result is a better facility, lower costs, and an improved schedule. Constructability reviews consist of:
Construction discipline involvement during project design;
Detailed project scope review;
Detailed review of construction plans and specifications;
Execution plan development and review;
Detailed schedule and budget review; and
Development of identified alternatives.
Construction Phase Cost/Schedule Audit
MTB provides construction-phase cost and schedule audit services for the purposes of ensuring that the project is on course for on-budget, on-schedule completion. These services are typically provided at numerous times throughout the construction schedule. Activities to be completed during each review include:
Review contract documents (initial review);
Project walkthrough; meet with contractor representative, architect, and owner's representative;
Review job-site safety program and contractor safety statistics;
Review contractor pay applications;
Verify contractor payments to subcontractors/vendors;
Review project budget for overrun potential;
Review contractor weekly meeting minutes;
Review contractor daily logs, force reports, delay reports;
Review change orders;
Review requests for information (RFIs), requests for change order proposals, or other similar documents;
Review project schedule for delay/acceleration potential;
Review QA/QC inspection test results (initial review); and
Punchlist review (final review).
Prepurchase Property Evaluation
A good purchasing decision requires an accurate assessment of the value of the property's assets and liabilities, both present and future. Assets are usually readily identified, although their fair-market value and future potential are subject to confirmation and interpretation. Many liabilities are obvious; some, both present and future, are not so easily identified. The seller often has little incentive to help the prospective buyer identify and quantify present and future liabilities. Evaluating a property for potential purchase involves substantial risks including:
Overstating the potential future worth of assets, resulting in a bad deal;
Understating the value of the assets, thereby missing a good opportunity;
Overstating the cost of the liabilities or future risk, thus missing an opportunity; and
Understating the cost of existing liabilities or failing to recognize significant future liabilities.
In performing prepurchase property evaluations, MTB confirms the value of assets and identified liabilities and searches for and quantifies hidden liabilities to the extent possible. This enables the buyer to make a better, fully informed decision.
Risk Analysis/Mitigation
A good risk analysis starts with knowing where to look for hidden problems. MTB's broad and diverse project experience points the way. Project risk analysis varies from project to project due to the unique nature of every project. Risk identification, therefore, is critical to a useful analysis. Risk mitigation is proposed for each risk issue and addressed as part of the comprehensive project plan and scope.